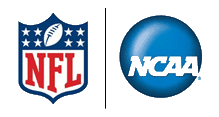 Football is the most bet on sport in the U.S., and each year an estimated $95 billion is wagered on NFL and NCAA Division I college football games throughout the course of a season with 98% ($93 billion) of all bets on football games being placed at online sportsbooks.
One reason for online sportsbooks stealing the show is their attractive football bonus offers - a perk that the brick and mortar sportsbooks can't compete with.
With this in mind, it's important to know that online sportsbooks will have bonuses and promotions for the NFL season games, college football match-ups, Super Bowl 57, and the NCAA CFP and National Championship to encourage people to choose them over the competition. Below we've covered the best sportsbook bonuses for betting on football.
Bovada

Sportsbook

Bovada has become known as one of the most popular online sportsbooks that welcome US residents. Along with a wide range of football betting lines and wagering options, Bovada is also known for its fast, accurate payouts, and enticing bonuses and promotions.
They've been providing superior online sports betting services since 2011, and are licensed to operate in multiple jurisdictions. They also provide a full-service casino, poker room, and racebook.
Bovada Sportsbook Bonuses and Promotions For The 2022-23 Football Season
50% up to $1000 Sports Welcome Bonus: For football season, Bovada is offering a nice sign up bonus worth up to $1000 for your first deposit. Their standard sign-up bonus tops out at $250, but they are extending the enhanced offer to our audience using Bovada Bonus Code: BVD1000.
Refer-a-Friend: For referring a friend, Bovada adds 200% of their deposit to your account, up to $100, and there is no limit to how many people you can refer, allowing you to score unlimited bonuses.
BetOnline

Sportsbook

BetOnline is one of the most recognizable brands in the online sportsbook industry and were one of the first legitimate US-friendly online sports betting sites to emerge more than 20 years ago. BetOnline is known for its substantial bonus offers, fast payouts, and a variety of banking options, including support for multiple cryptocurrencies.
BetOnline Sportsbook Bonuses and Promotions For 2022-23 Football Season
50% Welcome Bonus: BetOnline is offering an extra 50% up to $1,000 bonus on your sports betting bankroll when making your first-ever deposit when using the promocode BOL 1000.
50% NFL Preseason Reload: For the NFL season, BetOnline is offering a 50% Reload Bonus, meaning if you already have an account then use 100NFL19 on your next deposit (min. $50-max. $1,000) to double your deposit amount.
25% Sports Reload: For the NFL season, BetOnline is allowing you to earn a 25% bonus on every qualifying reload (min. $50-max. $2,000) when using the code LIFEBONUS.
100% Crypto Bonus: Use the promo code CRYPTO100 on your first-ever deposit using cryptocurrency to earn a 100% bonus (min. $20-max. $1,000) using either Bitcoin, Bitcoin Cash, Ethereum, DASH, or Litecoin.
35% Crypto Reload Bonus: Using the promo code EVERY, return bettors can receive a 35% match bonus up to $350 on all qualifying deposits made using Bitcoin, Bitcoin Cash, Ethereum, Litecoin, Ripple, or Stellar.
$100,000 Survivor Contest: BetOnline users can enter the website's $100,000 Survivor Contest for a chance to win a six-figure payout.
$250,000 NFL Mega Contest: BetOnline users can play this contest by picking ten-game winners each week of the NFL season. Once the season is over the top 40 contestants will win a piece of the $250,000 and the first place winner will take home $100,000.
Sportsbooks Offering The Best Football Betting Bonuses For 2023
Bitcoin Bonus For Football Betting
All of the football betting sites listed on this page offer new bettors a welcome bonus, sometimes also called a sign-up bonus. These offers increase if Bitcoin is used to make the first deposit, and we've seen the bonus cash reach levels of $750 and more.
If that's not enough, Bitcoin allows bettors to collect their football winnings faster than any other currency, as withdrawal requests can be processed in as quickly as fifteen minutes. We strongly encourage bettors to consider Bitcoin for your next Super Bowl betting transaction.
International football betting sites accept various options for sportsbook deposits and withdrawals, but across the board, Bitcoin (BTC) is the currency that they prefer the most. The decentralized nature of Bitcoin provides a level of security and anonymity that benefits both bettors and sportsbook operators alike.
Furthermore, Bitcoin is not controlled by any governing body or country and is not subject to regional regulations. These elements combine to create a potent mix of quick transactions and premium cybersecurity, which is why offshore sportsbook prefer them over other financial methods.
Important Dates for the 2022-2023 NFL and NCAA Football Seasons
Keeping track of when certain bets, like futures betting, for example, will be decided is important information to keep in mind. Here is a list of the key dates you need to know before betting on Super Bowl 57 or regular season football in 2022-2023.
2022-2023 NFL Season Dates
NFL Regular Season: September 8, 2022, to January 8, 2023
NFL Playoffs: Begin on January 14, 2023
Super Bowl LVII in Glendale, Arizona: February 12, 2023
Odds For Super Bowl 57: TBD
2022-2023 Division I College Football Dates
Division I Regular Season: Begins Week of August 27, 2022
Conference Championships: December 3, 2022
Selection Sunday: December 4, 2022
CFP Semifinals: December 31, 2022
CFP National Championship: January 9, 2023
Managing Your Football Betting Bankroll
When betting on football, or any sport for that matter, always be conscious of your bankroll and develop ways to increase it by simply winning as opposed to constantly putting money in because of losing streaks. Keep these rules in mind when it comes to betting on football and managing your bankroll:
Only bet what you can afford to lose is a common rule among professional gamblers. Knowing your limits and being realistic when assessing your real-life financial situation is the first step toward success.
Remember that nothing is a sure bet in football. Upsets happen all the time and there are too many variables for anything to be a given. Any given Saturday or Sunday a team can beat another team, but it's up to you to weigh the odds for both teams.
Starting small and working your way up is a safe way to bet on football. Most sportsbooks allow you to place minimum bets of $1 and conservative bettors typically only bet 1-2% of their bankroll in a single bet and even very knowledgeable sports bettors will bet at most 4-5%. Going all in sounds great until there's nothing left in your bankroll because you decided to risk it all on one bet.
Diversify your bets and find something you are comfortable betting on. If you start picking the wrong over/under every week then consider placing wagers on points spreads and vice-versa.
Finally, consider creating a roadmap for yourself over the course of a football season and evaluating your bankroll along the way. Adjust your betting percentages if you're doing well and scale back if you are not. You will win some bets and lose bets, and the average professional football bettor realistically hopes to win 60% of their bets and lose 40% of the time. Doing so nets them 10% profit in the long run, but the more knowledgeable about football you become, the better off your bet will be and you'll procure a bigger profit.
Football Betting Bonus FAQs
Q: Are the football welcome bonuses a limited-time offer?
A: Some promotional bonuses are limited-time offers and some last throughout the entire football season, but not all. Be sure to check the terms of conditions of the offer before taking advantage of a bonus.
Q: How do I qualify for the football welcome bonuses?
A: Typically, a minimum amount must be deposited (ex. BetOnline is $25) to receive a football welcome bonus. These types of promotions are only applied to your first sportsbook deposit to your bankroll.
Q: Can I take advantage of the football welcome bonuses if I'm not a U.S. resident?
A: It depends on which online sportsbooks you decide to use. For example, Each online sportsbook will clearly state in their terms and conditions which countries' residents can take advantage of their bonus offers.
Q: What if I don't want to accept a bonus?
A: Not a problem. Accepting a bonus is not a requirement of membership with an international football betting site and can be skipped over during the membership registration or deposit process if a bettor is not interested.