Bovada Sportsbook Bonus Review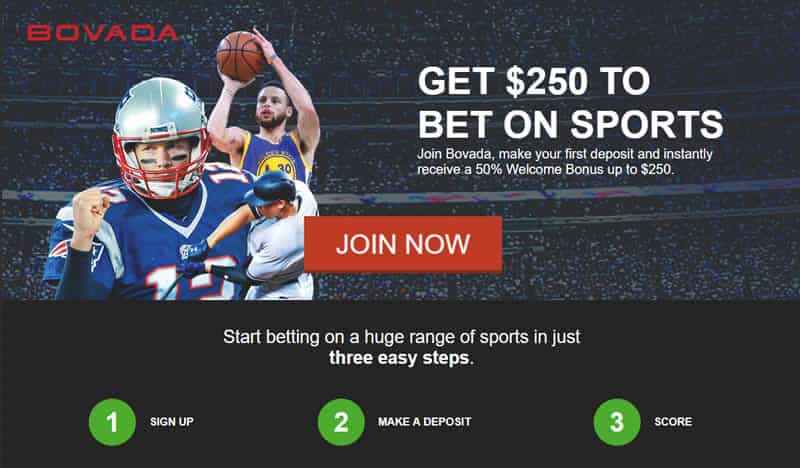 About Bovada Online Sportsbook
Bovada Sportsbook comes from very solid stock within the industry. Bodog Sportsbook was one of the most active online, and one of the locations most favored by US online gamblers.
But thanks to bureaucratic posturing, they had to close their doors to US players. However, always known for providing competent and responsive customer service, and placing its players first, Bodog launched a sportsbook in a jurisdiction which allowed US players and opened their doors as the Bovada Sportsbook.
The same legendary Bodog customer service, same favorable odds, and the same trustworthy payout system is in place, with the new Bovada name.
Offering an attractive 50% bonus on your initial deposit up to $250, Bovada delivers a substantial range of sports events, games, and matches for bettors to choose from, including niche categories that are never covered at US-based sportsbooks. Bovada has put in a lot of effort to stand out to US bettors. And all standard bets are available as well as Sweetheart Teasers, Cross-Sport Teasers, If bets, Reverses, and Round Robins.
Bovada Sportsbook Sign-up Bonus
As mentioned above, Bovada offers a 50% Free Bet bonus on your initial deposit up to $250. Once your initial deposit is processed, your free bonus bet will be available within minutes. To use your Free Sports Bet, follow these steps:
Go to your "My Account"t tab, and ensure that the bonus is active.
Add your qualifying bet to your Bet Slip just as you would a regular bet
Review your bet
Check the open box for Free Bet
Click Place Bet, and you are playing with free house money.
You can place any wager on any sport, with any odds, but you have 30 days from your initial deposit to take advantage of this free bet before it expires.
Bovada Sportsbook Bonus Code
No special bonus code is needed.
Reload Bonuses At Bovada Sportsbook
Bovada sportsbook currently offers no ongoing reload bonuses, but they do run random reload bonuses frequently and will e-mail you when one is upcoming so that you can take full advantage of the bonus. Throughout the year, Bovada will offer a wide variety of sports-specific and seasonal bonuses and special promotions.
Make sure you sign-up in advance to the start of the Major League Baseball, NCAA Basketball, NCAA College Football, National Hockey League, National Basketball Association, and the National Football League seasons to access the highest odds and props before your favorite sports season begins, as well as take advantage of any seasonal promotions.
Bovada Sportsbook Promotions
Like their big brother Bodog, Bovada will feature seasonal promotions for a wide variety of the sports events found in their betting lines. Often the promotion begins at the beginning of the season and builds each week, leading up to a big event or bonus during playoffs, and it is always best to check out their promotions at the beginning of any season or before playoff events.
Bovada Sportsbook Deposits
Bovada may not have a long list of payment methods to choose from, but it is a practical list that provides convenient and user-friendly options. Below you will find the deposit and withdrawal options currently in use at Bovada.
Deposits
Withdrawal
Check by Courier
Bitcoin
Bitcoin Cash
If you'd like to find out what different types of deposit methods are available, check our page that lists additional USA online deposit methods.
Bovada Mobile Sportsbook
Bovada has an easy to use mobile sportsbook that provides an efficient and well designed mobile betting experience. You can expect the same authentic betting experience as you would find in the desktop version of the site with the convenience of betting anytime anywhere.
The Bovada mobile sportsbook app allows users to place bets, check betting lines, withdraw or deposit funds, and everything else the desktop version does. Since the mobile app is web-based, there is no need for an additional download, and security features carry over to mobile devices.
Betting Lines & Wagering Options
Bovada provides betting lines for a wide variety of international professional, and college sporting events, political betting, entertainment betting, and more. Account-holders are almost sure to find the games they want to wager on, mainly if they include the NFL, NCAA, NBA, MLB, NHL, FIFA, or other popular leagues.
Bovada is also known for providing competitive betting lines for major events such as Boxing, Wimbledon, Masters Golf Tournament, World Cup, Olympics, and more. Betting lines dictate payouts based on the wagering option played. Bovada's betting lines are comparable to what you would find in Las Vegas and better than most of their online counterparts.
Bovada's sportsbook has multiple wagering options that account holders can use to place their bet. Each sport uses various wagering methods depending on the game. The wagering options associated with the Bovada sportsbook are money line, total, spread, parlay, round-robin, Sweetheart Teasers, Cross-Sport Teasers, If bets, Reverses, and futures, prop, and live betting.
Bovada's Other Gambling Services
Bovada offers an online casino, poker room, a racebook, and now live dealer games. Account-holders can use their single user account to wager on any of Bovada's additional services. All of Bovada's services are available to account holders with no additional sign-up or downloads (except poker). Bovada's Poker Room has a separate program to download for faster access to the poker table.
Live Betting
Bovada offers live in play betting on many sporting events around the world. The live events page provides a slew of live events that are in progress and can be wagered on. After clicking on the live events page, a new window will pull up that holds all the live events.
Once on the live betting page, games that are in progress are listed on the side menu. Live events are put into categories and sorted by sports. Upcoming events are also listed and easily accessible. Bovada's live event interface is clean with a players bet slip positioned on the right side of the screen.
Bovada Accepts US players
Bovada only services the United States at this time. They are part of the international Bodog brand. Bodog has several sites that service specific countries around the world.
Bovada does not accept players from the following states:
Delaware
Maryland
New Jersey
Nevada
BOVADA Bonus FAQ's
Are Bettors Required To Accept Bonus Offers? No, bonus offers are for bettors who want to earn additional rewards for their time and money spent. We suggest you check into a bonus offer as they could be beneficial in the long run, but there is no obligation to sign-up for a bonus reward.
Does Bovada Offer A Rewards Program For Their Casino, Racebook, Poker, And Live Dealer Games? Yes, the rewards system extends to all their platforms — the more a player bets, the more points a player earns. Points can be redeemed for bonus cash, and the number of bonus points earned over the life of an account will determine a player's rewards tier.
Can Bonus Funds Be Withdrawn? Yes, but wagering agreements must first be fulfilled. For the Bovada sportsbook, wagering agreements are (5) times over the deposit and the bonus combined.
Pros
Accepts players from the United States
Low minimum bets
Mobile option
Casino, poker, and horse betting options included
Great customer service
Cons
Limited deposit and withdrawal methods