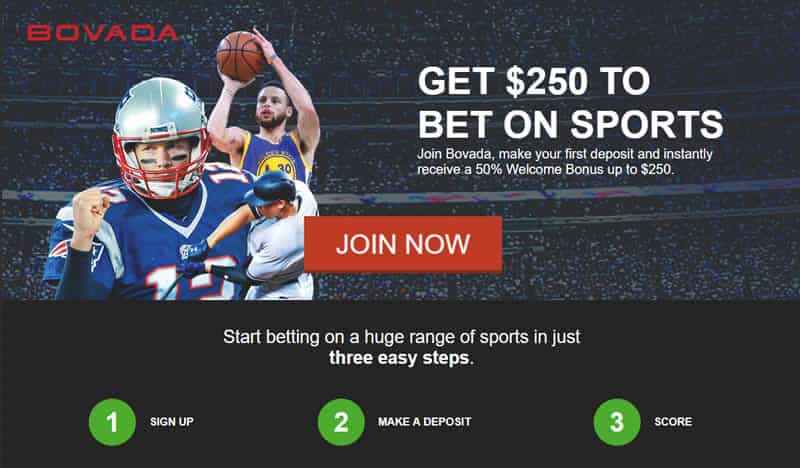 About Bovada Online Sportsbook
Bodog sportsbook was one of the most active online, and one of the locations most favored by US online gamblers. But thanks to bureaucratic posturing, they had to close their doors to US players. However, always known for providing incredible customer service, and placing its players first, Bodog simply opened a sportsbook in a jurisdiction which allows US players, and opened their doors as the Bovada Sportsbook. The same legendary Bodog customer service, same favorable odds, and same trustworthy payout system is in place, with the new Bovada name. Offering a new and improved 50% bonus on your initial deposit up to $250 for 2018, and extras like your choice of American Odds, Fractional Odds or Decimal Odds, Bovada goes out of their way to make you feel special. And all standard bets are available as well as Sweetheart Teasers, Cross-Sport Teasers, If bets, Reverses and Round Robins.
Bovada Sportsbook Signup Bonus
As mentioned above, Bovada offers a 50% Free Bet bonus on your initial deposit up to $250. Once your initial deposit is processed, your free bonus bet will be available within 30 minutes. To use your Free Sports Bet, go to your My Account tab, and ensure that the bonus is active. Add your qualifying bet to your Bet Slip just as you would a regular bet, review your bet, check the open box for Free Bet, click Place Bet, and you are playing with free house money. You can place any type of wager on any sport, with any odds, but you have 30 days from your initial deposit to take advantage of this free bet before it expires.
Bovada Sportsbook Bonus Code
No special bonus code is needed.
Reload Bonuses At Bovada Sportsbook
The Bavado Sportsbook currently offers no reload bonuses, but they do run random reload bonuses frequently, and will e-mail you when one is upcoming so you can take full advantage. Also, throughout the year they offer a wide variety of sports-specific and seasonal bonuses and promotions. Make sure you sign up in advance of the start of the Major League Baseball, NCAA Basketball, NCAA College Football, National Hockey League, National Basketball Association and the National Football League seasons to access the highest odds and props before your favorite sports season begins, as well as take advantage of any seasonal promotions.
Bovada Sportsbook Promotions
Like their big brother Bodog, Bovada will feature seasonal promotions for a wide variety of the sports evetns found in their betting lines. Often times the promotion begins at the beginning of the season and builds each week. leading up to a large event or bonus during playoffs, hence it is always best to check out their promotions at the beginning of any season or prior to playoff events.
Bovada Sportsbook Deposits
Bovada may not have a long list of payment methods to choose from, but it is an effective list that provides USA friendly options that are convenient and user friendly. Players can use Visa deposits, Money Transfer or Rapid Transfer to fund their sports betting account. They also recently added bitcoin in April of 2016 which should make US players very excited. If you'd like to find out what other types of deposit methods are available, check our our page that lists additional USA online deposit methods.
Bovada Mobile Sportsbook
Bovada has an incredible mobile sportsbook offering easy wagering from your mobile device. You can expect the same authentic betting experience as you would find in the desktop version of the site.