Online sports betting involves many different factors. Wagerers must find a site the like, betting lines that they think are favorable, and which sportsbook deposit option is best for them. One of the lesser-known, but highly equipped options, includes credEcardplus.
As a newer banking option on the market, credEcardplus's convenience rivals that of traditional banks and cryptocurrency when it comes to online sports betting. CredEcardplus is a prepaid card that can be used anywhere Visas are accepted, including major online sportsbooks.
However, what is drawing more people to credEcardplus is the option to withdraw their sport bet winnings through the service. While it is still in its infancy among the online books, credEcardplus is already an accepted payout method on multiple sports betting websites.
For a more detailed breakdown of credEcardplus and all its benefits in relation to online sports betting, continue reading this guide.
Best sportsbooks accepting credEcardplus deposits for 2023
What is credEcardplus?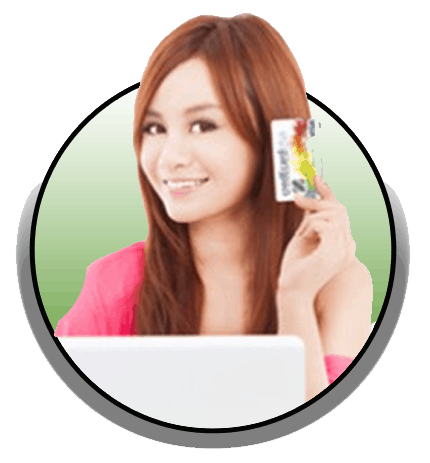 As an alternative to traditional banking institutions, credEcardplus is a United Kingdom-based online banking service issued by Contis Financial Services. Users, through a standard Visa card, can send and receive payments, make transfers, and anything else a normal account can do.
Aside from the online services, which is accessible through credEcardplus's website and mobile applications, users can withdraw cash from ATMs, pay for goods and services at retail locations, or pay bills.
CredEcardplus is also becoming a popular option for online sports betting as it is a prepaid, international service. Because of this, credEcardplus circumvents the Unlawful Internet Gambling Enforcement Act banking restrictions faced by financial institutions in the United States. Similar to cryptocurrency options, credEcardplus is a great option for quick deposits and payouts.
How to create a credEcardplus account
To create a credEcardplus account, prospective users must visit the website and click "Apply Now." From here, users will need to enter their details, such as their name, date of birth, phone number, mailing address, and a passport for non-UK users.
After all the required information is entered, users will then need to pay a £10 application fee before receiving their card within ten business days.
How to use credEcardplus at online sportsbooks - deposits and payouts
Using credEcardplus for deposits and withdraws is just as easy as using a normal credit card for sports betting. Once an account is ready to go, it's just a matter of entering the information into the appropriate spots.
For deposits, credEcardplus users need only to select the "Visa" option when they want to add funds to their online sports betting accounts. Players then enter the credEcardplus card number, the amount for the deposit, and then just submit.
Within minutes, everything is entered. It can take up to two days for the deposit to be credited to the sports betting account, though.
As for payouts, things are not always as streamlined for credEcardplus users. First of all, not all online sportsbooks will have credEcardplus as a payout option. But for the ones that do, winnings can take one to two days to show up.
CredEcardplus users are also subject to a $40 surcharge from the card provider. However, as funds can be made available in less than 48 hours and withdrawn from a traditional ATM, the price might be worth it.
How secure are credEcardplus deposits?
CredEcardplus deposits, much like normal Visa sportsbook deposits, are extremely safe on sports betting websites. Aside from the standard Visa security features that all their cards have, credEcardplus offers its users secure servers, SSL encryption, fraud checks, and anti-money laundering services. The company also refrains from sharing personal data with third parties.
With the safety regulations in place with credEcardplus, online sportsbook deposits are private and secure. Players can make deposits using the standard Visa option on sports betting sites without fear of either account freezing their money or denying service.
Top reasons to use credEcardplus to bet on sports online
CredEcardplus offers users a number of benefits, both for normal use and online sports betting specifically. The following list has been compiled to outline credEcardplus's biggest positives.
The card can be used anywhere Visas are accepted, including most online sportsbooks.
Anyone over the age of 18 can create an account.
CredEcardplus uses data encryption and other security features to protect user data on information across the web.
The service can be used to make deposits and withdraws on many only sportsbooks.
Once a payout is administered, cash can be taken out from ATMs using the card.
credEcardplus Bonuses
Despite all the benefits that credEcardplus can offer to online sports bettors, most sites do not offer players any credEcardplus-specific bonuses. This is in contrast to bonuses directed at Bitcoin sportsbook deposits that offer 100% match promotions when first joining or reloading on the site.
For credEcardplus users, bonuses are still available. While they are not specific to the service, most online sportsbooks offer new users welcome bonuses when signing up. Depending on the specific sports betting site, promotions may include a 50% match of the first deposit up to $1,000.
FAQs
How old do I need to be to have a credEcardplus account?
To open a credEcardplus account, users must be at least 18 years old.
Is credEcardplus legal to use for sports betting?
Using credEcardplus for online sports betting is completely legal anywhere Visa cards are accepted. At almost every online sportsbook out there, Visa deposits are universal. However, only certain sites allow users to withdraw their winnings through a credEcardplus payout process.
Does credEcardplus have a rewards program?
CredEcardplus has a rewards program that allows users to save when purchasing a variety of goods and services in sectors such as fashion, travel, entertainment, sports, and more. CredEcardplus also has partnerships with specific retailers that offer cash rewards up to 15% in some situations.
Is credEcardplus better for betting than traditional banks?
Overall, using credEcardplus versus a traditional bank comes down to preference. However, when comparing the two to online sports betting specifically, credEcardplus reigns supreme.
With credEcardplus, users can deposit and withdraw their funds on a variety of online sportsbooks in a much quicker fashion than other traditional options.